KNOWLEDGE TRANSFER
Digital learning media has become one of the most important components of knowledge transfer. Recipients are able to gain and test their level of knowledge irrespective of where they are and within a short amount of time. Certain topics though undoubtedly remain suited to classroom teaching, for example when it comes to managers preparing their team for upcoming change processes.
In these cases a combination of both forms of learning (blended learning) may be suited. Digital learning media can be a very advantageous medium to set the knowledge of all participants on one level before taking part in a classroom teaching scenario. It would also be suitable after a classroom teaching to internalize the discussed material and study certain topics further in depth.
THE INTERACTIVE DIALOG PICTURE
In addition to the printed dialog picture, an interactive version can also be provided. This is particularly useful in cases where not all staff can be reached by means of personal training due to organizational or logistical reasons.
With the interactive dialog picture the worker clicks step by step through the contents. The individual scenes can be supported by Flash animations.
The dialog picture becomes a movie when using the slideshow. A narrator leads through all areas of the picture and explains the contents. Additionally, animations or supporting texts could be inserted.
Depending on how the slideshow is supposed to be used, the whole dialog picture could be explained in detail or give an overview of the concept and the subordinate picture areas, for example as a teaser or opener for an event.
Digital learning meets attractive visualization. In the context of digital learning material we can offer Web Based Trainings (WBT). With WBT, training can take place anywhere and at any time via an entertaining multimedia method.
We can offer you the complete digital learning portfolio - from basic learning modules with illustrated scenes up to complex user interactions. Not only do we provide you with didactic concepts and realization, but also with captivating visualizations. In addition to scenes; text, graphics, animations, photos or dialog films can also be integrated. Through user interaction such as drag and drop or digital puzzles, progress can be achieved in a fun and enjoyable manner.
Our Web Based Trainings are offered in various formats:
standardized Web Based Trainings using common authoring tools (e.g. Adobe Captivate)
customized development of a Web Based Training using your company´s own authoring tool or developed by us (e.g. HTML5, Typo3)
provision of single files for easy importation and usage (i.e. scenes, graphics, animations, dialog films)
To give you an impression of our Web Based Training you can find our demo version here with various features to try out. Additionally, you will receive some useful tips to make your meetings more efficient. Have fun!
We are happy to receive any requests and provide any further information.
THE ANALOGUE VS. DIGITAL BRIDGE
Combine your printed dialog picture with your tablet or smartphone. Additional information, movies or animations are displayed on the screen. The AR version can, for example, be integrated as a supplement in the dialog picture workshop. Or even to get to know the first picture contents without a moderator at a dialogue picture station in the reception area. Either way, this tool will bridge the gap between the analogue and digital world and link the different channels in a new way.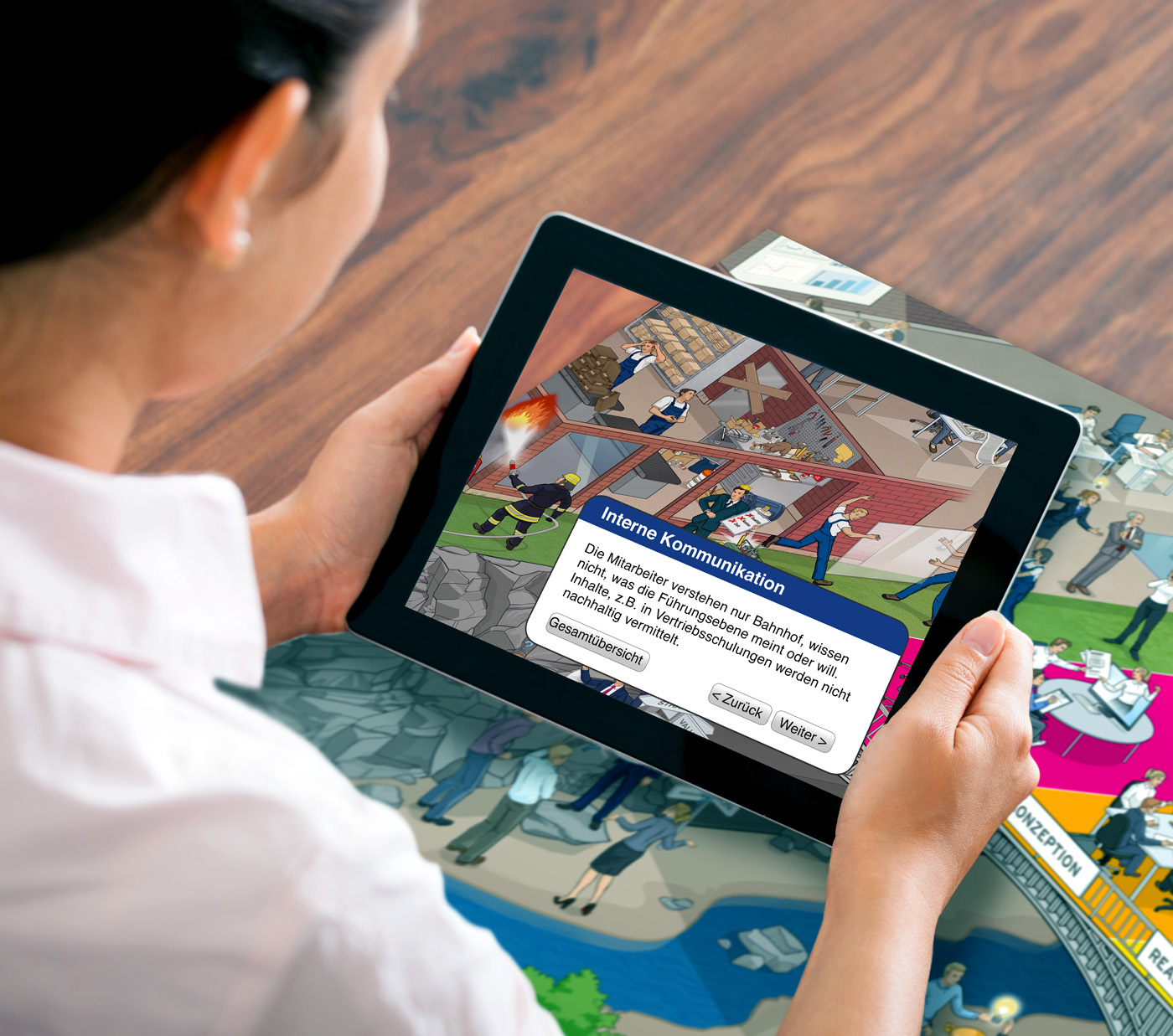 A NEW LEARNING WOLRD
Virtual Reality is currently on everyone's lips. Use the hype around this new technology and let your employees become part of your dialog picture. By moving their heads, your colleagues gradually discover the pictures contents. Suddenly you are no longer in front of a picture, but right in the middle.
In particular, processes taking place in rooms, e.g. in stores or workshops, are thus even more tangible. With the Virtual Reality glasses, you have the choice of the simple cardboard variant, where the smartphone serves as a stage, up to the high-tech solution. The cardboard glasses can be printed with your company or action logo on request.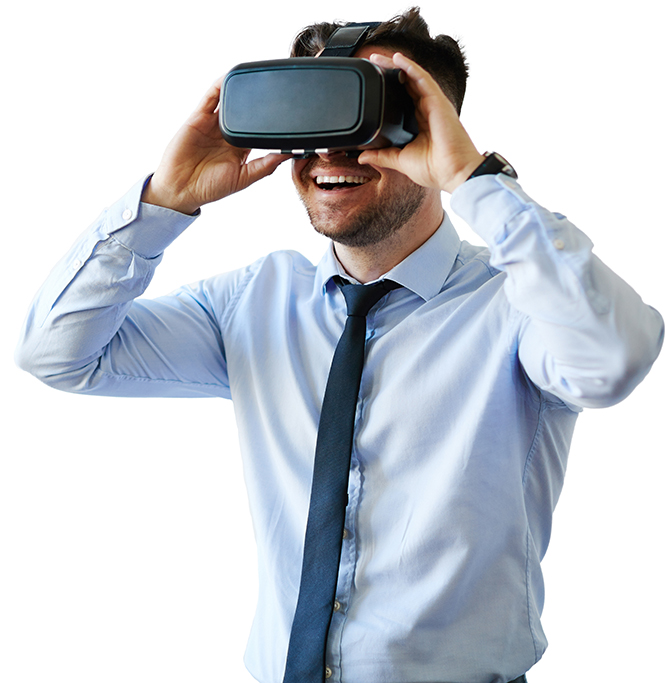 To move around simply click on the image, hold and drag with the mouse. Have fun!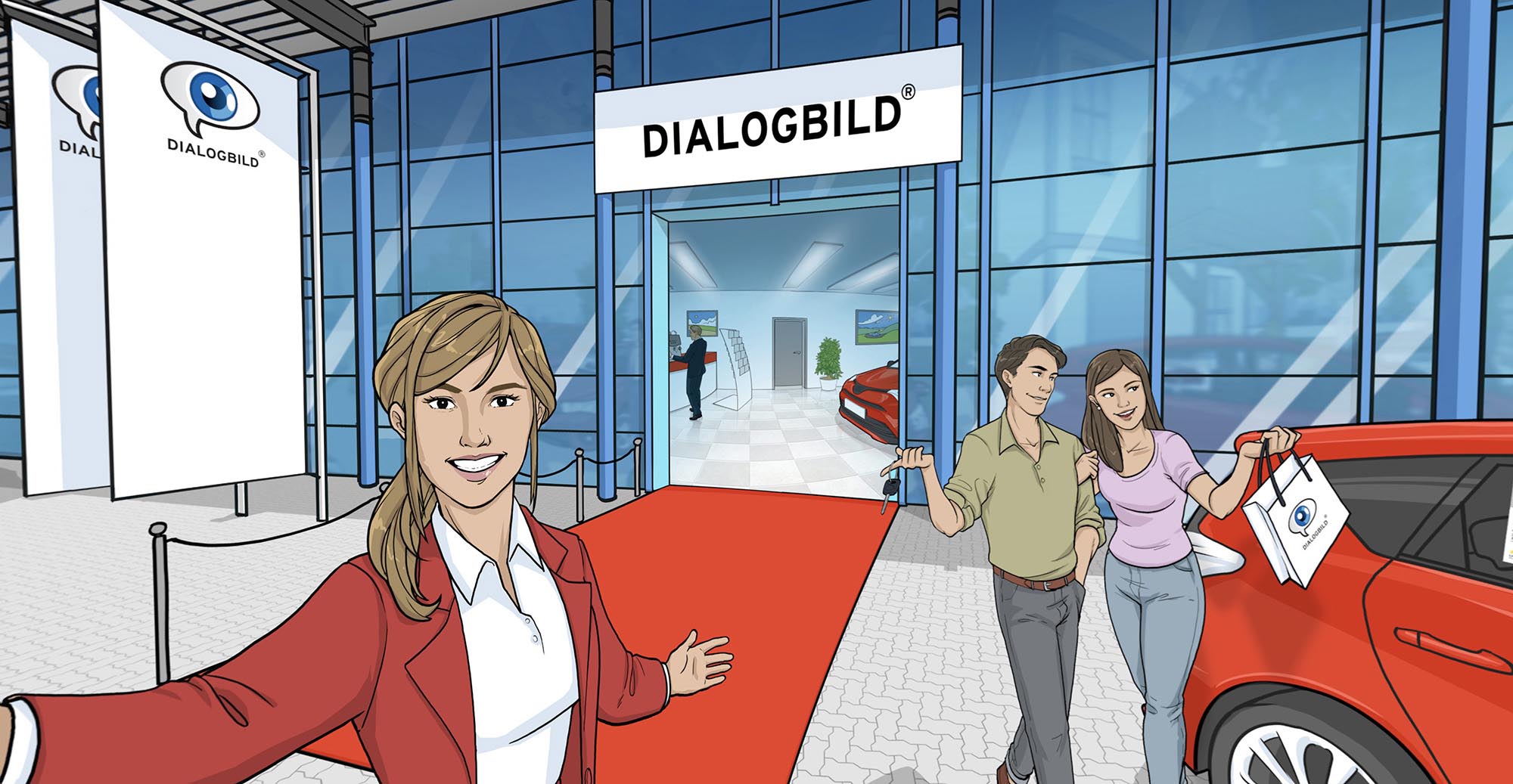 DIALOGBILD VR PRODUKTIONSHALLE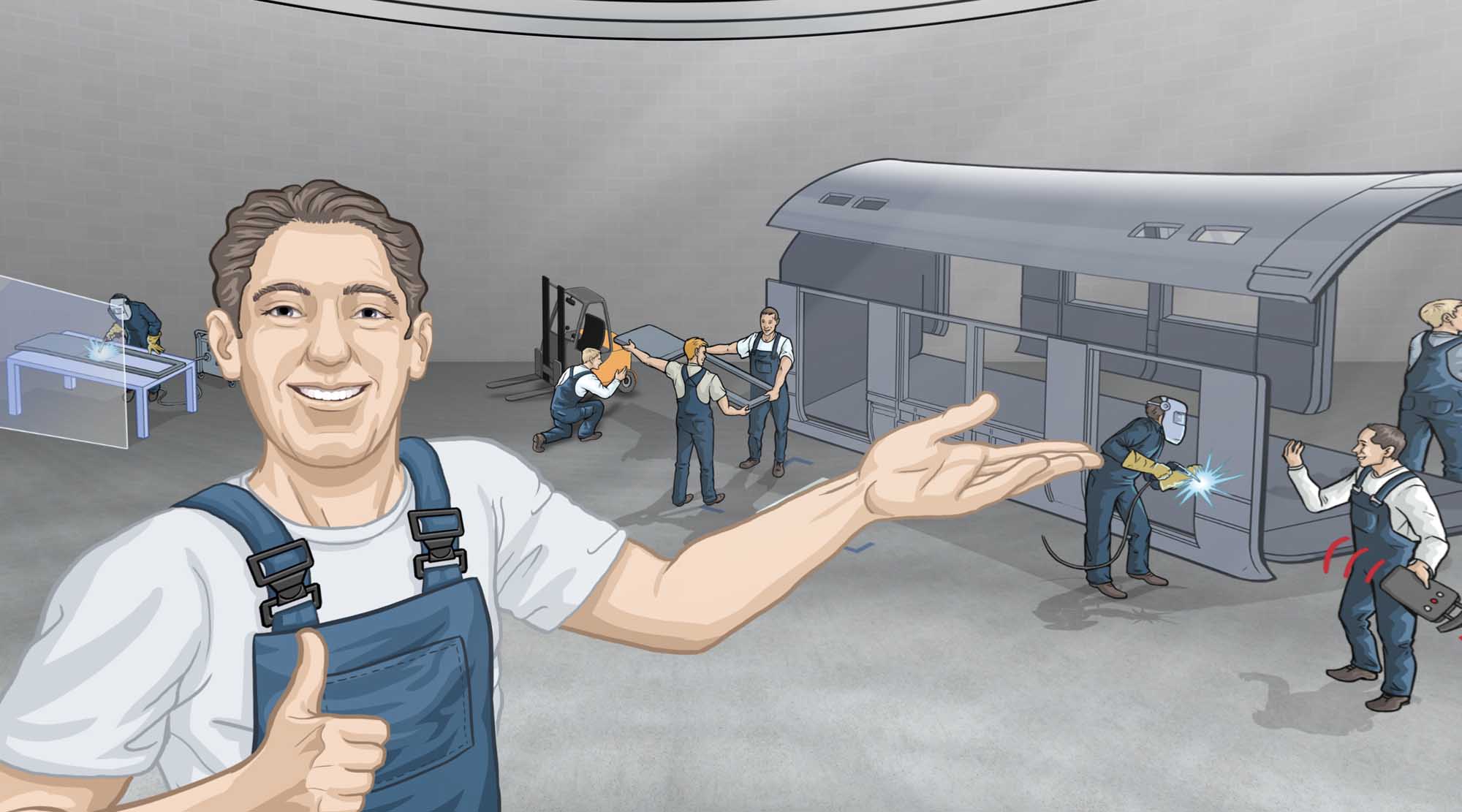 DIALOGBILD VR EMPLOYEE LIFE CYCLE