We support companies to communicate complex topics sustainably and efficiently.
We are a combination of a creative consulting firm and a communication agency. Our consultants and illustrators are equipped with deep marketing, managerial, business psychology, HR and organisational development backgrounds. Since our foundation in 2003 we have realised more than 100 national and international Dialog Picture projects.
We are the leading provider of dialog pictures in Europe.
As a result of our close collaboration with top managers from all our clients we have established a high level of expertise, especially in HR, leadership development, process optimisation, change and vision.
Our expertise consists of:

capturing complex corporate structures, collecting the essential information and transforming into a visual medium and supporting the roll-out and the implementation of the media.
You are welcome to visit us in the city center of Hamburg. Get to know us personally and take a look behind the scenes.
DIALOGBILD GmbH
An der Alster 47
20099 Hamburg
Phone: +49 (0)40-30 70 26 10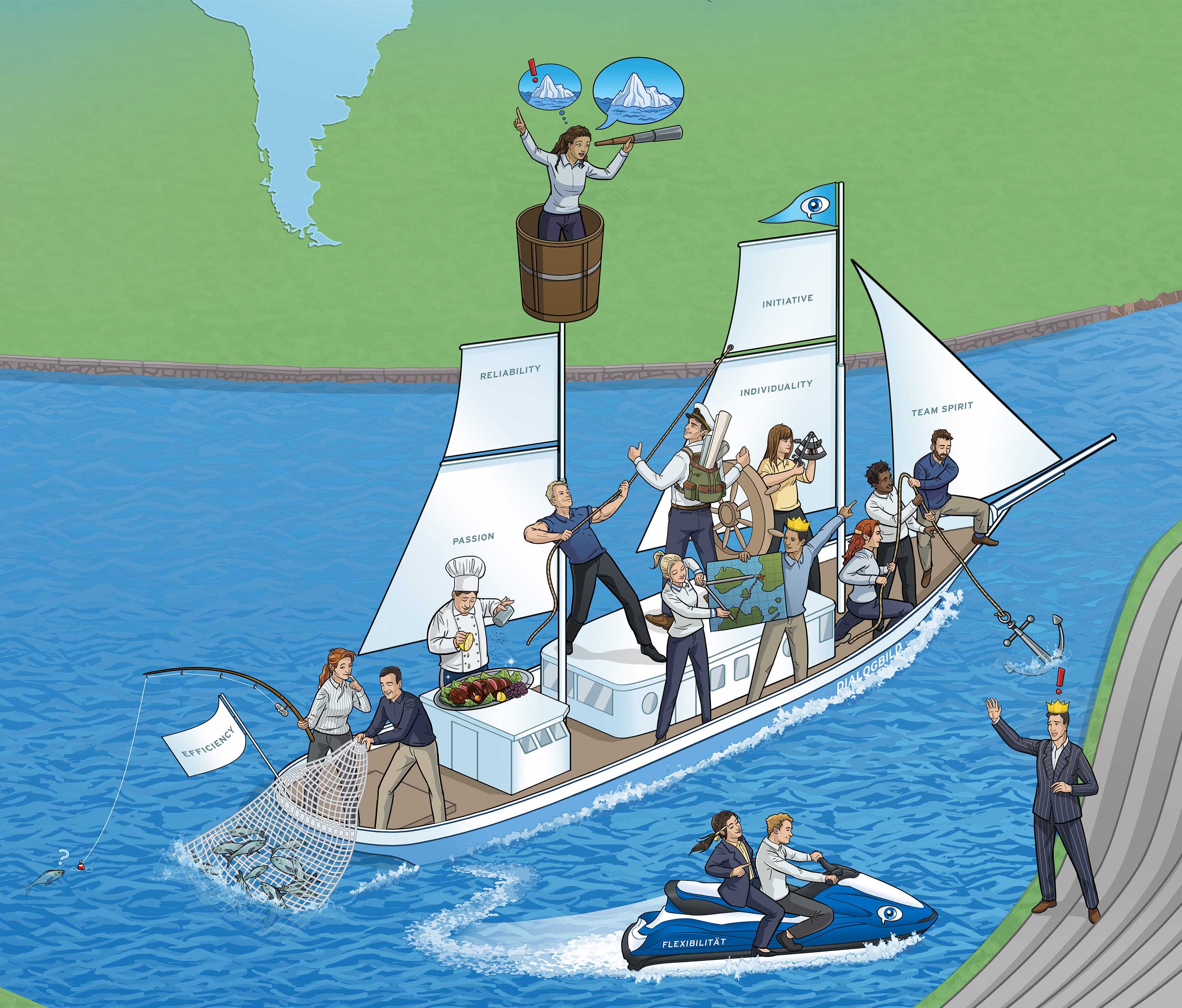 Tom Becker
Tom Becker studied media communication and illustration design at the University of Applied Sciences in Hamburg (HAW Hamburg). Before founding Ecke Hamburg in 2003, he worked at several large advertising agencies such as Kolle Rebbe and Springer & Jacoby. He has been recognized numerous times for his outstanding work from such distinguished bodies as the Art Directors Club and the Yearbook in Advertising.
"In advertising, the message must be quickly and concisely communicated. I take the same approach when it comes to the Dialog Picture. To make the clients' strategies applicable and relevant to all staff, each worker must readily understand them."

Wolf Wienecke
Wolf Wienecke, Advertising Manager, worked as a key account manager in many large advertising agencies such as Heye + Partner and Springer & Jacoby where he eventually switched to copywriter and conceptualization. As a creative consultant at Ecke Hamburg since its founding, he has implemented his own ideas of intelligent and effective communication.
"The conceptual development is not only the heart of the eventual Dialog Picture; it also has an added value. Discussions are much more vivid when concrete pictures are used. The many different perceptions or views of a certain topic, e.g. a new strategy, can at first be harmonized into a single view and then expounded on with the Dialog Picture. When a mountain of Power-Point slides are transformed into an easy to undertsand picture, even experienced top-managers can see the advantages."