STUTE Logistics (AG & Co.) KG is a modern logistics service provider with a long tradition. The company was founded in Bremen in 1853. Nowadays the company is one of the leading European service providers in the areas of contract logistics, overland transport and ocean freight. Since 1996 STUTE Logistics (AG & Co.) KG has been a wholly-owned subsidiary of Kühne + Nagel-Group. Beside their corporate values of respect, customer orientation and self-responsibility, STUTE puts great emphasis on 10 leadership principles which shape working together on a daily basis.
The values should be understood, accepted and lived by all employees in order to establish them permanently in the company. DIALOGBILD was tasked with visualising these values. After the briefing discussion we started to design a background scenery which was used as a base for the following interdisciplinary live visualisation workshop consisting of one illustrator and one moderator available on site.
The workshop was used to fill the background scenery with life and to develop suitable drafts of scenes for the leadership principles. Key message, actors and image metaphors were considered as influencing factors among other things. Afterwards the Dialogbild was finedrawn and completed after a three-month project phase.
The background scenery reflects the company in all areas and creates connections as a result of it:
Contract logistics: in the building on the left side the business area and on the right side the industrial area
Overland transport: on the bottom with STUTE- modes of transport
Oceanfreight: in the upper right corner of the picture with inland vessel and seagoing vessel

Nina Krebes
STUTE employee and organisational development
"A few years ago we've already implemented our STUTE- leadership principles in our company and with the aid of the new Dialogbild we want to establish them even stronger in the company. Our goal is that all employees understand and live the principles - from the management to the industrial employee.
The dialogbild shows a cross section of the whole company and visualises in single scenes our business culture and our leadership principles. It is supposed to familiarise all employees with the topics in a playful manner. To achieve high acceptance and identification we developed each scene in a creative workshop together with our colleagues from all business areas."
THE WORKSHOP SKETCH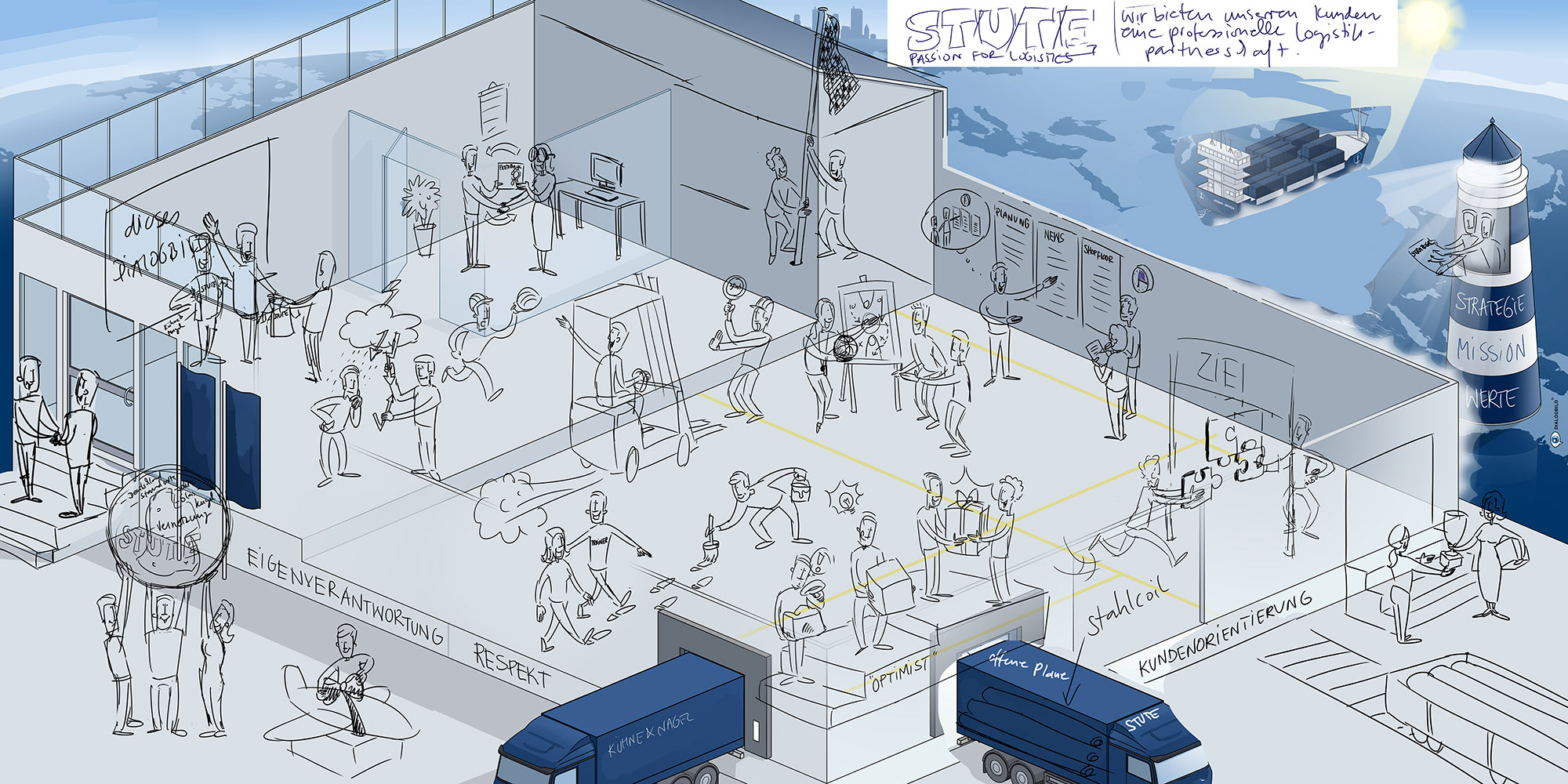 INDIVIDUAL SCENES AND THEIR MEANING

We expect and live overall corporate actions.

We handle disputes objectively and professionally.

We provide security and health for our employees and support their further education and training.

We act determinded, reliably and quickly in the interests of our customers.