VW Immobilien is focusing in 2012, on establishing the center structure. In order to gain a common understanding of how VW Immobilien must set itself up in the future in order to achieve its strategic objectives well and safely, we prepared a dialog picture with 25 executives at a management meeting.
To begin with, the individual centers presented their mission and guiding principles, which we then visualized together in a previously developed landscape.

Maren Graef
Head of Corporate Development Volkswagen Immobilien GmbH
"The individual areas had worked out their own mission. It was clear to them how to understand their respective roles within in the company and to the customer. The development of a dialog picture was effective not only because a common understanding was created for each other quickly, but also because the respective self-understanding could once again be questioned and refined.

The result is now used for various events to communicate the missions also to the team. Supporting the image is central to the company."
INDIVIDUAL SCENES AND THEIR MEANING

The VWI Competence Center T negotiates with its customers at eye-level. The word counts: cost, timing and quality are met. Feedback is valuable.

The VWI profit center C offers the customer inspiring results and solutions with a vision. Wishes are realized as best as possible.

The VWI Service Center U supports the development of the company with incentives and guidance, like a gardener who waters his plants.

The goal is clear: all departments are working together to achieve this success.
5 puzzles, 5 centers, 5 missions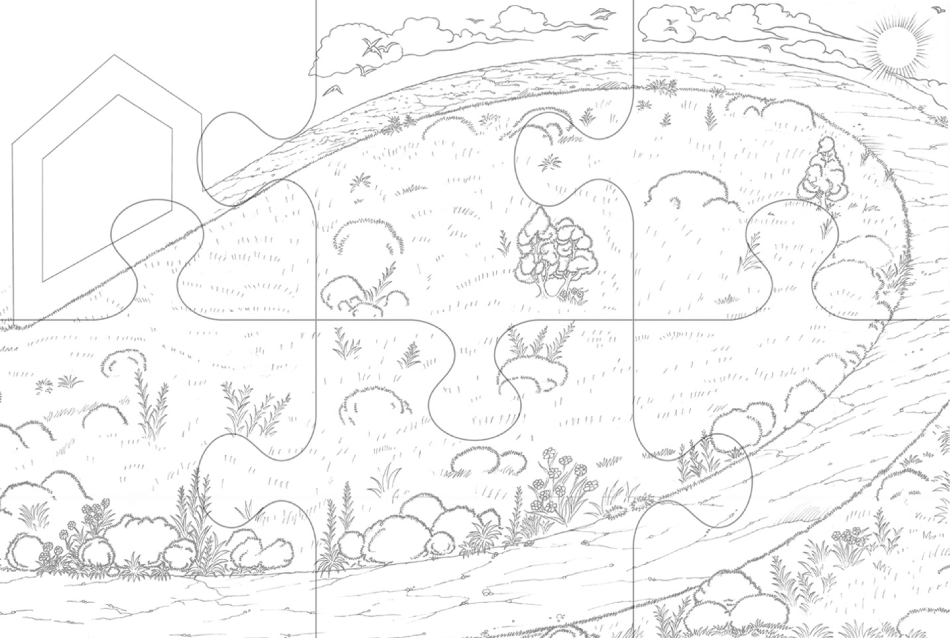 Puzzle piece 1: Profit-Center C (Corporate Real Estate Management) Profitability is now written with C! VWI wants to be number one ... - we make our contribution: merciless (negotiate), meticulous (analyze), understanding (for the customer and partner). We do this as a high-performance team: liberal, respectful, curious and innovative. We create inspiring results and solutions with a vision. VWI can ... CREM CAN!
Puzzle Part 2: Service Center F (Finance and IT) Buy an "F". If the customers of Volkswagen Immobilien are satisfied, our profit centers have done everything right. To this end, F makes a relevant and acknowledged contribution. We are the team behind the success. By keeping our partners free, we are making big steps. We help and produce transparency and orientation together. Through our work, we enable freedom for results and added value. Fast and effective work is important to us and our clients; for this we produce economic and recognized IT solutions. Our partners at Volkswagen Immobilien are customers and friends at the same time!
Puzzle piece 3: Profit-Center P (private customers) Everyone finds their home here - for days, weeks or a whole lifetime. Each stage of life is different. Because we know this, we accompany our customers and help to find the right living environments and services. The satisfaction of all our customers is our driving force, the efficiency of the solutions is our benchmark. As professionals with passion and experience, we create reliable, timely and personal solutions. For this, we need flexible and motivated colleagues and service providers who are quick and enthusiastic about our products and services. We are the face of Volkswagen Immobilien in the public.
Puzzle piece 4: Competence Center T (Technology) We are the technical foundation of Volkswagen Immobilien. Real estate is our passion, worldwide. With energy and ideas for the future, we design living and working environments. Our experience and responsibility as owner also enables us to create and maintain value for our customers as a service provider. VWI quality promises to generate best-practice solutions for customers, employees and partners.
Puzzle piece 5: Service Center U (Company Development) Yes U can: Support, Consulting, Services. Our customers and their employees are the other centers. We help them focus on their profitable core business. On behalf of the Group and Management, we support the development of the company with incentive and guidance. We achieve this with charm, fun and bite. We are passionate about movement and direction. The needs of our customers and their business are the compass of our actions. Our work is based on acceptance, respect and trust.
The moderator and the illustrator
The event was presented by Torsten Voller from the "Steife Brise" company theater. The Steife Brise was founded in Hamburg in 1992 as an improvisational theater. Today, it works as a European business theater. The ensemble consists of nine actors and two musicians who are also active as trainers. The picture was live illustrated by Tom Becker of DIALOGBILD. During the event the sketch was projected directly onto the screen using a projector tablet. After each round, the "butter for the fish" (a German idiom for "come to the point") card appeared, in order to sum up the individual missions and guiding principles.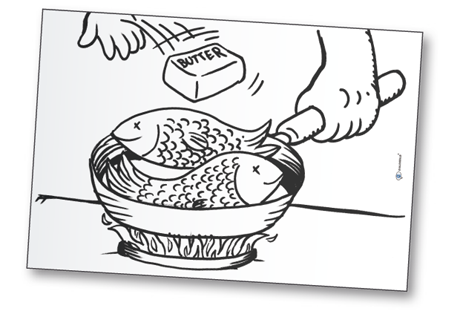 THE WORKSHOP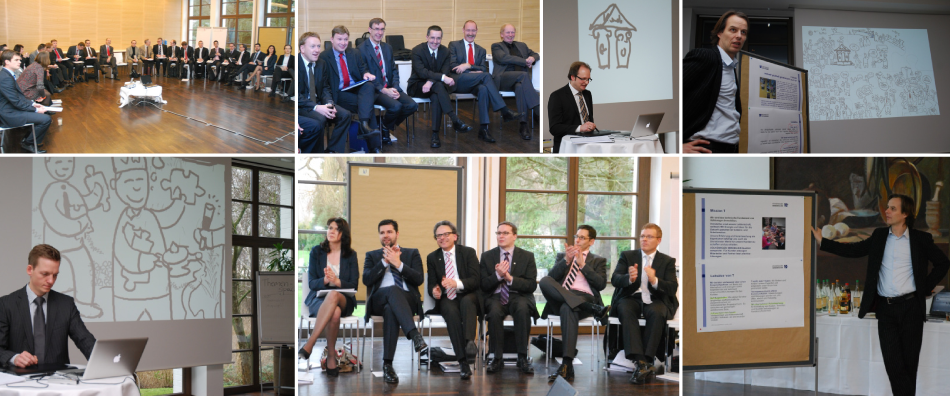 The dialog cards

For the evening event we developed dialog cards, which were used in a kind of "speed dating". The individual managers got to know each other in a completely new way.