For the Swiss insurance company Helvetia we developed a dialogue picture about "customer loyalty" during an executives conference in Zermatt. The Matterhorn provided not only a fascinating panorama but as Switzerland′s fifths highest mountain also symbolized Helvetia′s goal to become Switzerland's fifths biggest insurance company. During the two-day event we hosted a live–illustration and illustrated together with 120 executives the path leading to the Matterhorn.The topic "customer loyalty" played a leading role as well and was based on a survey among customers and field workers.
To improve customer loyalty, Helvetia carried out a survey among customers and field workers. We presented the results during the event in form of posters with several customer statements. At the same time the posters also provided a vivid introduction into a discussion on the subject "customer loyalty".
A customer′s quote: "With the consultant it′s the same as with a butcher, if you don′t trust the butcher you won′t buy anything."

Daniela Disler
Human Resource Development at Helvetia Group
"During an entertaining moderated live-illustration we developed a dialogue-picture-sketch on our central starting points within the subject "customer loyalty" together with 120 executives.It helped to sharpen the common understanding of the executive board and top management on the subject and foster the support for the final dialogue picture. Subsequently the sketch was finalized and the executives will now discuss the dialogue picture on the basis of a guideline with all their employees. Thereby we create a common language and give orientation for the development of further measures on the subject – in an unconventional but sustainable manner."
THE LIVE-ILLUSTRATION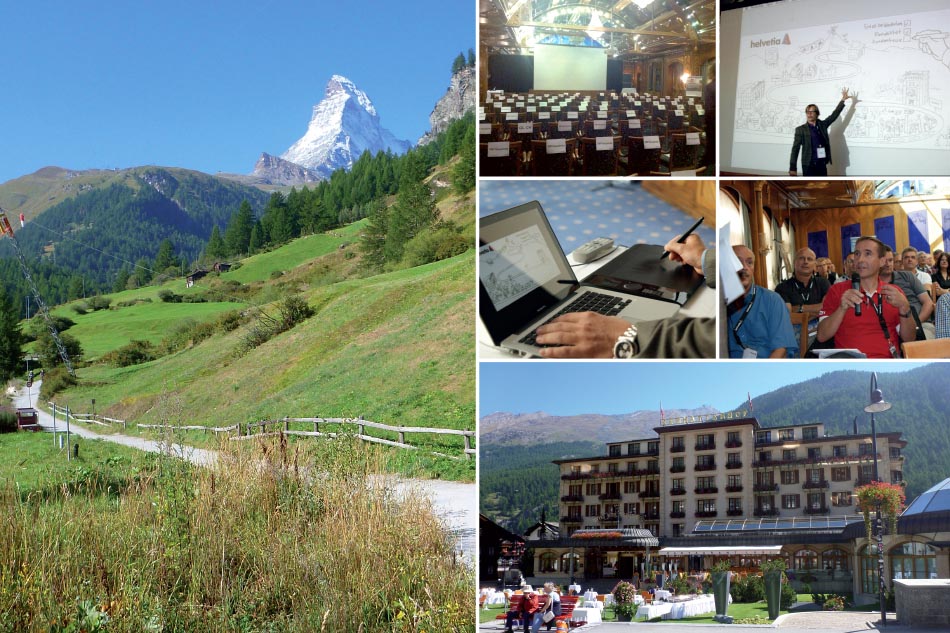 INDIVIDUAL SCENES AND THEIR MEANING

A good field worker always has the capacity to listen carefully and to know his customers well. This already starts at the front door in knowing the name of the dog.

The pit stop symbolizes fast handled customer concerns. Information needs to be fast and easy to understand.

What′s the typical Helvetia field worker like? He knows the right answer to every question and helps his customers to fulfill their dreams.

In the event of damage the client expects a fast and uncomplicated treatment. The field worker thereby turns quickly into Superman.